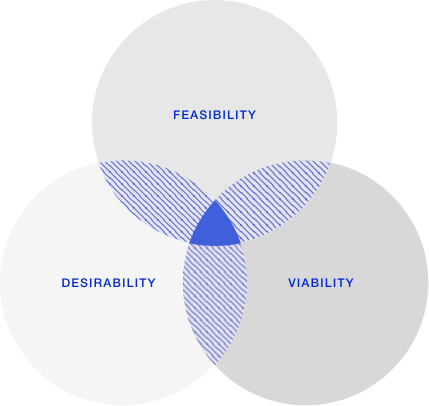 Design Innovation
Design Thinking
Our process focuses on creating compelling experiences that are grounded in user data and business goals while carefully designing to deliver on the user's needs. This collaborative process brings together business and technology vision holders to ensure our designs meet business objectives, are scalable for future growth, and are feasible from a technology perspective.
Competitive Research
Our process includes the identification and analysis of direct and adjacent competitors. We conduct thorough and diverse research to gain a deeper understanding of the current and future states of the competitive landscape, unlocking key insights that produce data-driven conclusions and recommendations.
Digital Transformation
With the pace of change accelerating across all industries, businesses and brands are facing new and significant threats. Simultaneously, technological change creates an environment with new business opportunities, which our teams focus on as we engage across full-spectrum digital transformation.
Digital Roadmapping
We work closely with our clients to develop short, medium, and long term strategic roadmaps. Initiatives and projects are structured to maximize impact, reduce fragmentation, and parallelize to avoid dependencies.
Capabilities
Digital Innovation
We explore digital whitespace opportunities to create new value for your business or brand.
User Experience & Interface (UX/UI) Design
We combine information architecture, interaction design, and visual design to deliver compelling UX/UI solutions.
Customer Experience
We take the time to understand your business from the customers perspective and find opportunities to advance your business goals.
Rapid Prototyping
We create interactive prototypes throughout the process to validate concepts and the user experience of the proposed solution.
Collaborative Process
We bring together business, technology, and creative stakeholders to ensure our insights meets the business objectives.
User Testing and Accessibility
We collaborate to define usability targets to ensure we are validating solutions that meet project goals.