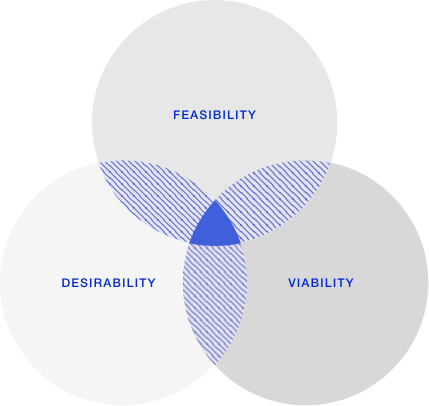 Design Innovation
Design Thinking
Our process focuses on creating compelling experiences that are grounded in user data and business goals while carefully designing to deliver on the user's needs. This collaborative process brings together business and technology vision holders to ensure our designs meet your business objectives, are scalable for future growth, and are feasible from a technology perspective.
User Experience Design
Our team focuses on your user and their journey throughout the experience in order to challenge and solve for business objectives, technical limitations and accomplish the user's goals.
Persona Research
We apply a structured approach to identifying and developing relevant personas. We establish an accurate and succinct representation of actual users of the solution. This phase enables us to obtain human-centric insights on customer desires and challenges.

User Journeys
We incorporate the design thinking outputs, persona research, competitive analysis and business goals to build user-centric journeys. This maps out the paths of the various users through a predefined set of goals in order to validate the success of the solution.
Crafting The Digital Brand
Your visual identity is the foundation upon which we build your new digital brand. From digital style guides to interaction design, digital content, copy, and visual design, these become the building blocks of your digital experience.
Design Capabilities
User Experience (UX) Design
We focus on your user and their journey in order to challenge and solve for existing constraints.
User Interface (UI) Design
We combine information architecture, interaction design, and visual design to deliver compelling UI solutions.
Motion & Interaction Design
Our team creates motion graphics and animation to make your digital experience come to life.
User Testing and Accessibility
We collaborate to define usability targets to ensure we are validating solutions that meet project goals.
Rapid Prototyping
We create interactive prototypes throughout the process to validate concepts and users journeys.
Content Production
We create digital-first assets that engage your customers.